Neko je čuo za kupon kodove a neko će tek sada. Uprošćeno, to je kombinacija brojeva i slova koje kada ukucate dok ste u "korpi" mogu da vam donesu određeni popust, besplatnu dostavu ili neku drugu pogodnost koja je uvek u vašu korist.

Kupon kod koji treba da ukucate u toku jesenje akcije je: 785JES211

Ovim ste obezbedili 20% popusta za kupovinu bilo kog proizvoda na Nalepnica.rs. Kupon možete koristiti koliko god želite puta.

Možete ga pokloniti svojim prijateljima ili rođacima.

Akcija traje 30 dana odnosno od 20.10 do10.11.2011.
Hit unikatan poklon za pojedinca, druga, drugaricu ili celu porodicu. Tabla za pisanje kredom koja može da se zalepi na bilo koju ravnu površinu.
Možete je koristiti za zapisivanje namirnica koje je potrebno kupiti, ili kao oglasnu tablu "Dragi, danas je red na tebe da opereš sudove" i slične svakodnevne poruke.
Nalepnica je takva da se može beskonačno puta brisati i pisati po njoj jer je vodootporna. A kako bi sve bilo zanimljivije možete kupiti i krede u boji u bilo kojoj knjižari i time upotpuniti piskaranje.
Nalepnicu - tablu možete postaviti dakle ili u kuhinji ili u dečijoj sobi ili u hodnik, bilo gde je vama zgodno i gde mislite da će posluži kao mesto za obaveštenja.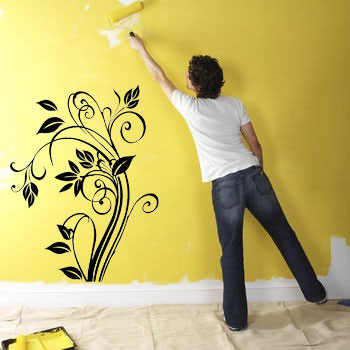 Da, znamo, farbanje stana je mukotrpno čak i ako sav posao ne radite sami, uvek ostane ono spremanje i vraćanje stvari na mesto, brisanje prašine itd.
Ali složićete se kada se posao završi i kada sednete u novo okrečenu sobu osećaj sreće i olakšanja je teško opisiv.
Baš ovaj trenutak želimo da poboljšamo još više i da se uvek divite i radujete kada uđete u vaš kutak doma. Idealna je prilika da odabete neki cvetni dezen ili ukrasno ogledalo za vašu "novu sobu".
Ideja je bezbroj, mi smo se potrudili da ponudu učinimo maksimalno šarenolikom za svačiji ukus. Uvek postoji mogućnost da i sami pošaljete neku ideju a da vam je mi sprovedemo u delo.
Recimo devojčicinu sobu možete ukrasiti ponijima i zvezdama, a dečakovu automobilčićima, nekom šumom ili životinjama. To bi takođe bio idealan poklon za decu kada soba već postane pretrpana igračkama.
Najbolje od svega je što nalepnice za zid ne ostavljaju trag-lepak posle skidanja. Možete jedno vreme koristiti recimo dezen sa bubamarama, da bi se posle određenog perioda odlučili za promenu.
Ovo je samo jedan u nizu tekstova koji će se baviti idejama za ulepšavanje stana i uopšte enterijera.